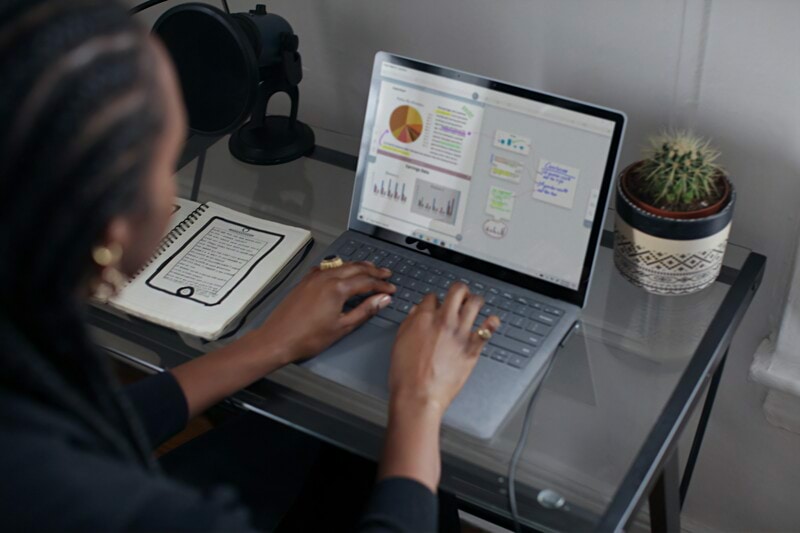 Dynamics F&O Lead Solutions Architect
Role Summary
You are an experienced Solution Architect/Senior Consultant with a deep understanding of ERP implementation, business processes, and industry trends. You will take responsibility for the complete solution, potentially from presales to support handover, ensuring customer success through scope management and early value realisation wherever possible. You will become a trusted advisor to those within the customer and Columbus project teams through passion and a can-do attitude.
Your role will consist of 3 primary areas.
Implementation projects
Working with the Delivery Manager/Project Manager/Enterprise Architect (on large projects), you will form part of the Project Leadership Team. Within the project you and will be responsible for the overall solution architecture throughout the entire project delivery lifecycle. This will encompass scope management and executing the strategy over functional, non-functional and technical alignment across over the project
On Enterprise projects you will be potentially one of several LSA's supporting the Enterprise Architect, customer and Columbus implementation teams to deliver project where the solution landscape is more complex (i.e. large CE and FO implementations).
Pre-sales
A critical element to our success is in pre-sales, you will support the sales process by guiding both the sales team and interacting with prospects directly. You will support by defining the potential solution architecture components, project phases and take responsibility for the creation of the Columbus (and customer) estimation of services, to support the agreed scope, deliverables and timeline.
Internal leadership
You will have line management responsibility for a number of the Senior Consultants, supporting their personal development in appraisals (twice yearly) and regular one-to-one's. You will take personal developmental responsibility for more junior consultants within your project team.
In addition, you will responsible for ensuring knowledge transfer of new product capabilities/roadmap and industry trends in a nominated area. As a key member of the implementation team you will be expected to feed into and review output of internal projects related to successful sales and implementations.
Responsibilities include but are not limited to:
Lead Solution Architecture on projects
Presales
Support definition of potential solution landscape, project phasing, estimation of Columbus services and timelines, confirmation of deliverables.
Ensure adequate focus applied to 'must win' sales cases by juggling existing workload.
Co-ordinate and participate in demos and workshops.
Input to Business Impact Analysis.
Business issue clarification and advice.
Directly managing a small group of Senior Consultants (not expected to exceed 5)
GROW & Reviews
Absence Management
General management queries and work Issues
General management queries and work Issues
Absence Management
General management queries and work Issues
Manage the personal development of more junior consultants within your project teams, giving feedback, setting goals and updating GROW for appraisals and half year reviews.
Lead 'functional teams' (for example Finance, Production, Trade and Logistics) that cross all levels of the consultancy framework. Enable knowledge sharing within the functional team to ensure awareness of upcoming changes relevant to that area, be that industry or software.
Responsible for identifying internal training needs of Columbus consultants within the various platforms, and for organising the delivery of knowledge sharing within their area – this is particular the case for Industry practice leads, which are expected to dedicate time and effort to industry best practice, external communication and customer briefing.
Keep up to date with changes/developments in D365F/SCM and 1st Party products such as CE, Talent, Power Platform, Azure DevOps, Azure Integration Services and industry best practices, through self-learning, training and research
Keep up to date with the development of the Columbus 9 Doors offerings and how they could benefit our customers
Using experience, provide feedback and recommendations to improve current processes/implementation methodology
Contribute to the LSA community globally, partaking in cross-country initiatives and projects.
Provide mentorship and support to your peers, your project team and the wider Columbus team for your specific areas of expertise
Contribute to the continuous development of your team, the company and the group organisation through knowledge sharing
Participate in developing Columbus; enhancing and refining project models, pre-sale approaches, industry-specific solutions and Pre-Sales and project materials and collateral
Ensure that the Columbus values, which are the basis for our success, are maintained and developed further
Display great team spirit and loyalty towards your colleagues whilst encouraging and maintaining a high level of performance
Actively demonstrate your commitment to the Columbus Employee Value Proposition – HEART – and keep it at the core of everything you do
Any other tasks/responsibilities appropriate to the role.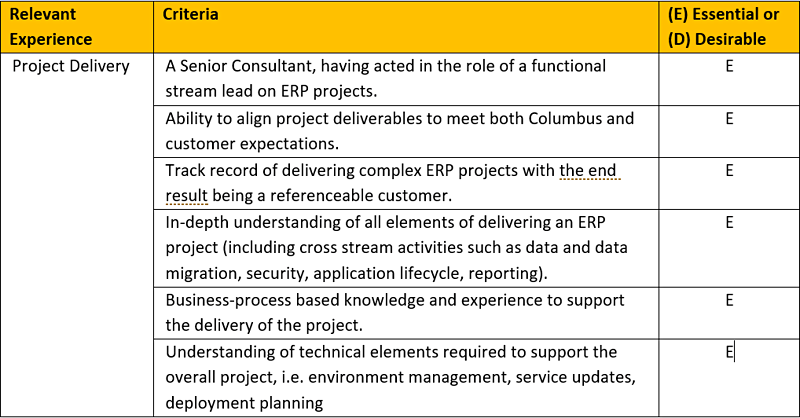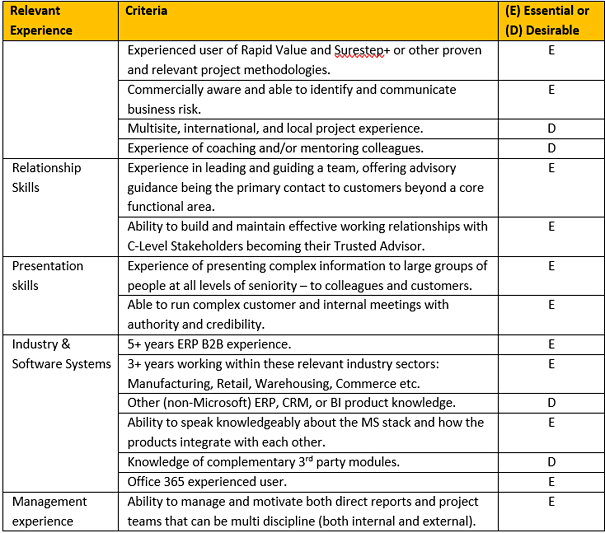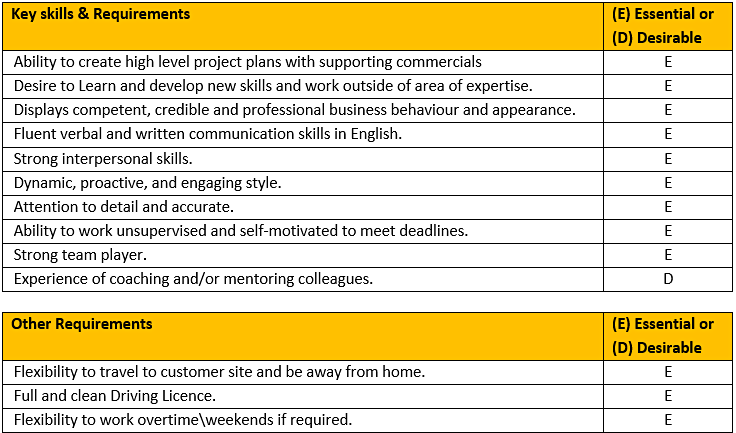 Perks & Benefits
25 days Holiday (plus Bank Holidays) increasing with service

Whether it's feeling the sand between your toes or skiing off piste, everyone deserves a break. So at Columbus we make sure you have the time to do what's important to you.

Healthcare Cashback Plan

We understand that you are at your best when you feel your best - That's why we enrol every employee into our healthcare cashback plan. Healthy body - Healthy soul!

Columbus Heart

Columbus Heart is our Benefits Hub, which not only provides information on all our benefits, it also hosts a retail discount portal that offers every Columbus employee preferential discounts at everyday high street stores and on top brands. You can save on everything from your weekly shop right the way up to a new TV or your monthly gym subscription.

Cycle to Work

To promote healthier journeys to work and to reduce environmental pollution Columbus has a Cycle to Work Scheme to help you get a new set of wheels.

Life Assurance

We value our people and their extended families, which is why we offer this life cover to all of our team members - we hope this is a benefit we never have to use but it gives peace of mind to our team.
Workplace & Culture
At Columbus, we are proud of our employees, their technical and industry expertise and their ability to develop, adapt and implement business solutions that help our customers maximise their efficiency and overall business performance.
We understand that there is life outside of work and try our hardest to enable a good work/life balance within the team.
In recognition of the commitment and loyalty within the team, we ensure that we celebrate successes together and offer social activities both to employees and their families at different times throughout the year.
We also have an extensive competency framework to support career development at Columbus and we invest heavily in performance management and training & development initiatives at all levels of the business.